Breakwater Marine Geelong
Your Place For Geelong Boat Repairs
Trained in Yamaha & Honda outboard servicing & repairs. Servicing most brands of motors. Need Help please contact Wayne on (03) 5248 8480 or Contact Geelong Outboard Repairs
We are now the agents for Maxus Outboards a new brand but with good old fashioned reliability and service check out our Maxus Outboards Info Sheet
Some Outboard Tips I Have Put Together
Best way To Look After An outboard
You don't have to be a mechanic to take care of your outboard. Just by merely referring to the user manual of your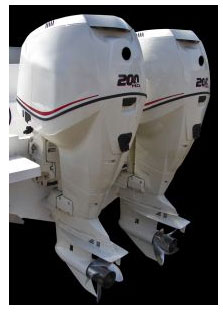 out board, you can maintain its functionality for a very long time without invoking the help of anybody. And if you are the type who is used to enjoying the ride but have no idea how to fix simple mishaps, one break down one day will open your eyes and believe me, you may end up memorizing the whole manual in a matter of seconds, especially with an ugly storm coming your way.
Annual Routine Check
To start you off, you can have a mechanic test the spark, conduct the compression tests, test the pressure in the lower unit, the water pump checks as well as the seals, the warning alarms and give the outboard a full critical check especial on potential areas of breakdowns. To save on the pain and costs, after every annual routine checks, you should be on your own to ensure that you sail through the season without any break downs.
Flush Out the Engine
Whenever you come back from a ride, remember to flush out the engine, irrespective of whether it was a salt water or fresh water outing. Circumstances that call for a flush include the clarity of the lake or river water you operated on or whether you kicked some sand when running aground. You need the rabbit ears to perform this exercise which should be slipped onto the lower unit and attach a garden horse. You can then start the engine and in ten or so minutes, you will be done. Doing this consistently is one of the best ways to look after an outboard.
Check the Water Pump
See to it that you have perfect water flow by carefully putting a finger through the water stream. Warm water is ok but not hot. Check if there are any debris stuck in the outflow tube especially if you have a weaker output. Shut down the engine and insert a small piece of wire into the outflow tube and move it back and forth before restarting the engine
Use Fresh Fuel
After flushing, allow the engine to burn all the fuel in the carburetor after disconnecting the fuel line. Any fuel that has been lying around for over 60 days must never be used. Check out for potential leaking points on the line fittings, the clamps on the fuel line, any corrosion on the fuel tanks as well as water in the fuel. Any potential leaks must be reported to the mechanic.
These simple tips offer the best way to look after an outboard on your own. The frequency of the checks will depend on how frequency you use the motor if you want to get us to look service your outboard in geelong please contact us